All our trees for sale are grafted and grown right here in the Black Barn Farm nursery using absolutely no synthetic fertilisers, herbicides or insecticides. Each and every tree is inoculated with beneficial mycorrhizal fungi, fed specific woodsy composts and well irrigated to ensure you are taking home the healthiest tree and root system possible.  All our trees are grafted onto semi-dwarfing disease resistant rootstock, perfect for low maintenance backyard orchards and suitable as a free standing tree 3-5m tall or for espaliering where heights could be kept to 2m with annual pruning. Each tree is sold with a free planting and growing guide.
Opalescent - potted regular
61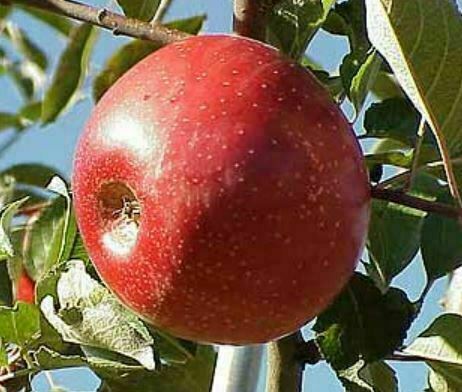 Never was there a prettier more striking, large apple. It ripens to a brilliant crimson/red on the tree. The flesh is rich and juicy. Originated in Xenia, Ohio in 1899. Some reports are that it is a sport of the Twenty Ounce. Hangs well on the tree. It cooks beautifully and is a late season apple.
Subscribe to Black Barn Farm seasonal updates