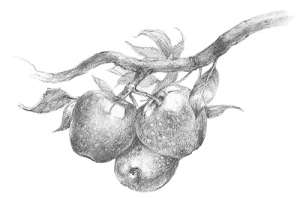 U-Pick
Farm Gate
Our farm gate is as seasonal as it comes, what you'll find on the shelves will be different every single day depending on the time of year, the weather and how busy we've been.
The beauty of fresh, local food is that you can guarantee it was picked just a few hours before and the nutrition is as good as it gets.
U-Pick
We're growing!
Because our orchard and berries are only young, our trees and canes aren't producing enough food to satisfy the anticipation of full baskets from everyone who wants to visit. To avoid disappointment, U-Pick will be limited however will grow every year as we do.
U-Pick
Where Are We?
Take an off-the-beaten-track meander through the rolling hills of Stanley to discover the weak-at-the-knees magic of picking fresh apples. The black barn farm Orchard is located at 60 lower nine mile rd (see map below). We are about 10 minutes drive from Beechworth. Head to our Facebook page for up to date information on what varieties are ripe for the picking each week.
U-Pick
Heritage Apples
Not just any apples but heritage apples, many long forgotten with names such as Mutsu, Smoothee, King Cole, Five Crown and Cameo (plus all your favourites like Pink Lady, Gala and Fuji). Kids can run far, grown ups can enjoy the sun on their back and everyone can marvel at how magnificently crisp and juicy the humble apple is when it comes straight off the tree.
U-Pick
Fresh From Jan 'Til June
With 98 varieties of heritage apples 2kms of berries (raspberries, blueberries, blackberries and currants), 6 varieties of pear, quince, olives, persimmon and fresh seasonal vegetables the season begins in mid jan and continues until June. While you shouldn't have favourites, the apples are..well, the apple of our eye and they all have particular personalities. Getting to know them is like going speed dating, some are tart, some are sweet, some get better with age and some need to be eaten immediately or they go soft. Some are crackin' cookers some are so crunchy they split in your mouth, the odd one is a jack of all trades and some are best left for a few weeks so their sugars can come in to make your taste-buds tapdance.
U-Pick
Healthy food, Healthy Humans!
Because we don't like eating food with artificial insecticides or herbicides, we figure you don't either, and here's a tip, neither does mother nature. We only use certified organic insect control methods and go the extra mile to do many things by hand, such as weeding and thinning surplus blossom rather than use chemical thinners. This deep consideration for our orchard ecosystem takes more time and costs us more but this means you and your troops can eat our food straight from the paddock with no worries to be had – what a treat!
U-Pick
What to bring so she'll be apples
Bring your own bags, baskets, ice cream containers and any other sturdy vessel you can lay your hands on to fill as you pick up a storm. Many apple and pear varieties will last unrefrigerated for a number of weeks – some even get better with age! The berries however need to be cooled quickly so they don't spoil, be sure to bring a cooler if you have a distance to drive.
U-Pick
Dough Bros Fresh Apple Cider Doughnuts
Head to the 'Dough Bros' stand and order yourself the best apple cider doughnuts in Australia (given they're the only apple cider doughnuts in Australia this is a pretty safe claim we figure). The Dough Bros typically man the stand 11-3 on weekends during the picking season.
U-Pick
The Cost: Fruit by the kilo
We don't charge an entry fee or for tasting on the job, you simply pay for what you pick with a minimum pick of $10 per adult and $5 per child.
We accept cash and eftpos.
U-Pick
Sharing the Spoils
We love nothing more than seeing ruby cheeked cherubs running up and down the orchard rows with fists and mouths full of apples. It really is a place where kids are supposed to be, they intuitively feel the magic and their desire to explore is bold. We love this…we really do! But equally, we love it when Mum and Dad explain the boundaries to their little explorers and respect that apple trees are for growing fruit, not climbing, apples are for eating, not throwing and the farmer (that's us) has worked really really hard to grow the amazing food on the trees so we don't want to see it (or us) disrespected.
U-Pick
Four legged friends
Because we have free ranging chickens and geese as well as two farm dogs of our own, it unfortunately means you cannot bring your 4 legged pooch with you (seeing eye and assistance dogs are of course warmly welcomed).